I was talking with the lads at work about a really cool trip one of my colleague's friends are going on; riding from South Korea back to Ireland on bicycles through the vastness of Asia (check out their blog here) and decided that I'd like to make my own little trip through Europe myself. I've recently been to Portugal and absolutely loved the place, but as it usually happens with these long weekend trips of mine is that I never actually research the place I'm visiting too much. I was pleasantly surprised when I went to Cabo da Roca, which is the most western part of the European mainland continent. Stumbled on it by chance, now it is the first stop on my European West to the Centre of the Universe trip (ha! yes, Poland lies in Central Europe... and it's not full of trees everywhere... only a few places).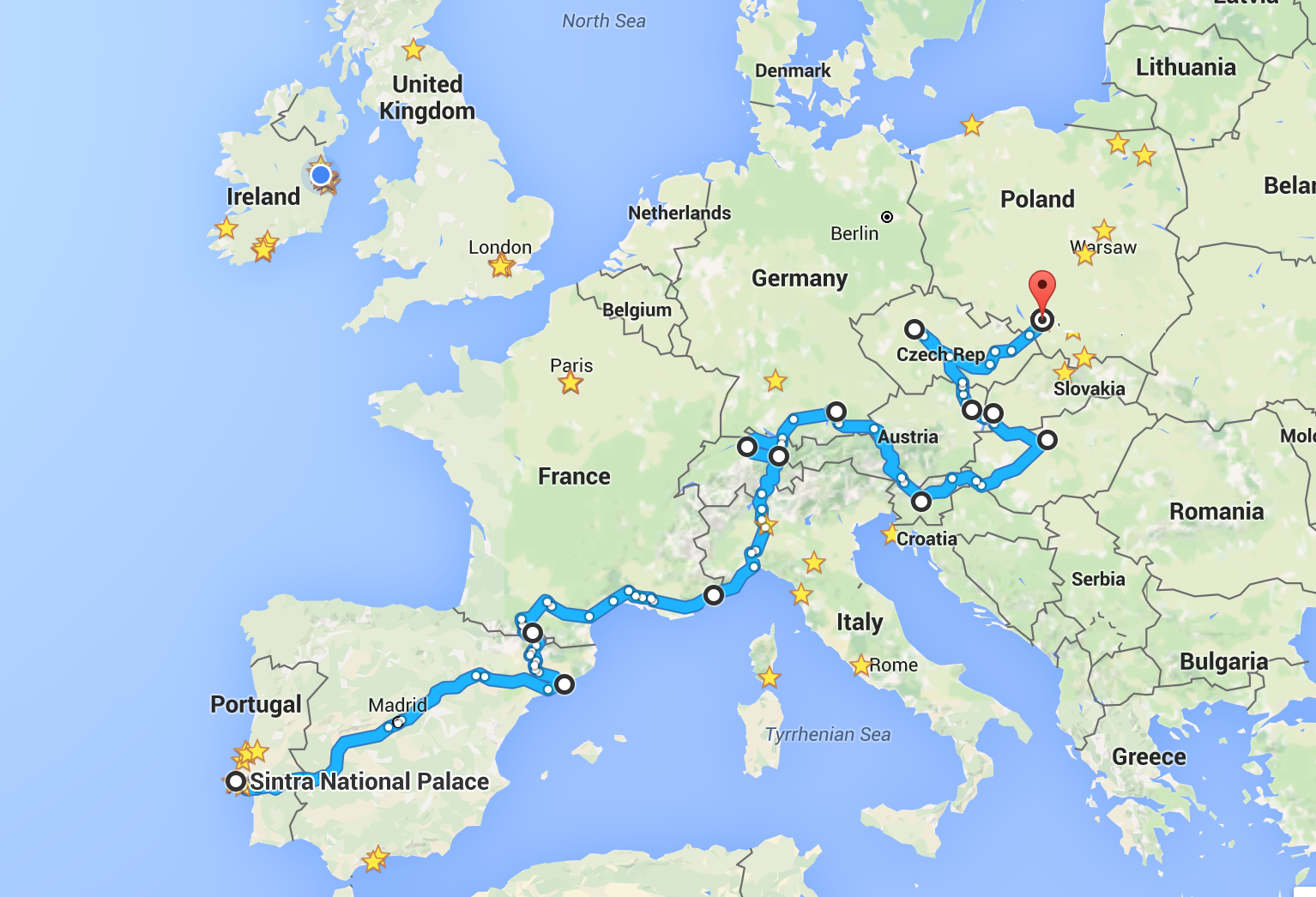 I'd like to travel to cities I haven't visited yet and refresh my memory on places I've been to already.
So without further ado here's the list of stops I'd like to visit:
Sintra (Cabo da Roca), Portugal
Madrid, Spain
Barcelona, Spain
Andorra
Nice, France / Monaco
Milan, Italy
Zurich, Switzerland
Basel, Switzerland
(Optional): Stuttgart, Germany
Munich, Germany
Ljubljana, Slovenia
Budapest, Hungary
Bratislava, Slovakia
Vienna, Austria
Prague, Czech Republic
Ruda Śląska, Silesia, Poland
Trip duration: ~ 3 weeks
Number of stops: 16
Mode of transport: car / train(?) / mixture of both
I haven't decided on how long to stay in which place, but it would very much be a factor of my acquaintance with the city / country, the points of interest and the general atmosphere of the place.
Now, this might not happen for another couple of years before I get enough money to travel through 14 countries, pay for the hotels, motorways, petrol for 4000+ km, but it's a plan that's already starting to shape up.